Fracking – or hydraulic fracturing for shale gas – is stirring up strong feelings both for and against. So just what are the threats, if any, for the bottled water industry?
An advertisement carried by a national newspaper claimed that fracking for UK shale gas would mean 'decades worth of natural gas; millions of pounds in tax revenues; and lowering energy prices for millions'. The Advertising Standards Authority found against the claims which it said were: 'misleading, unsubstantiated and exaggerated'.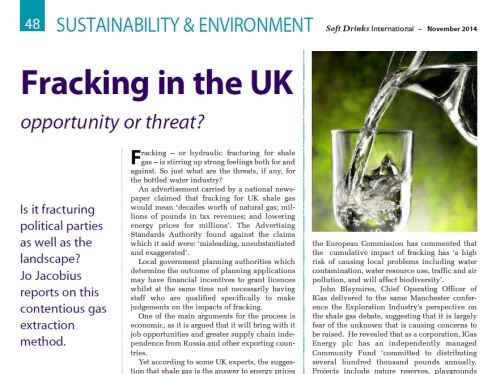 Local government planning authorities which determine the outcome of planning applications may have financial incentives to grant licences whilst at the same time not necessarily having staff who are qualified specifically to make judgements on the impacts of fracking.
One of the main arguments for the process is economic, as it is argued that it will bring with it job opportunities and greater supply chain independence from Russia and other exporting countries.
Yet according to some UK experts, the suggestion that shale gas is the answer to energy prices and supply is just not substantiated.
A Matter of Debate
In a speech to the Fracking North Conference in Manchester in September Tony Bosworth, Climate and Energy Campaigner for Friends of the Earth, said that fracking for shale gas isn't the answer. He cited Lord Browne, Chairman of Cuadrilla – the privately owned exploration and production company – as saying it 'is not going to have a material impact on prices' and Lord Stern as saying that the claims are founded on 'baseless economics'. He went on to explain that the European Commission has commented that the cumulative impact of fracking has 'a high risk of causing local problems including water contamination, water resource use, traffic and air pollution, and will affect biodiversity'.
John Blaymires, Chief Operating Officer of IGas delivered to the same Manchester conference the Exploration Industry's perspective on the shale gas debate, suggesting that it is largely fear of the unknown that is causing concerns to be raised. He revealed that as a corporation, IGas Energy plc has an independently managed Community Fund 'committed to distributing several hundred thousand pounds annually. Projects include nature reserves, playgrounds and emergency equipment for rural communities'.
Paying off communities is a way forward of course but some would question whether that is really the answer. Indeed, Professor Sarah O`Hara, Pro-Vice Chancellor of the University of Nottingham, revealed at the same conference the results of a survey conducted by the University showing that, since the Balcombe protests, the public has started turning its back on the fracking industry. Support dropped from 40% last summer to under 25% now despite attempts by energy companies to offer the very compensation and other benefits to communities affected that IGas described.
Implications for the Bottled Water Industry
At a members' General Meeting of the British Water Cooler Association, held in Coventry this autumn, industry expert Paul Thomson, Water and Environment Director of Zenith International, gave a detailed and very wellreceived presentation on the potential implications for the bottled water industry of hydraulic fracturing for gas.
He first described how hydraulic fracturing for 'unconventional' (shale) gas works. "It involves a stimulation technique performed on low permeability reservoirs to increase oil and or gas flow using fluids and proppants injected at high pressure and flow rate into a reservoir to extract the gas. The fine grained rock – shale – covers some 30% of earth's surface. Horizontal drilling creates a larger zone of capture. I am not so concerned about the injection of water and proppants but by risks generated by the flowback resulting from the fracking process. The injection of water and frack fluid will be subject to controls under the UK's commitment to the EU Groundwater Directive. Essentially the fluid must be non-hazardous to groundwater."
He tackled the question of how the gas and liquid contaminants will get to the surface: "Fracking wells will produce large volumes of 'flowback' which will contain hazardous substances. The management of this waste presents risks and challenges below and above ground. An abandoned borehole or a fault-line through the geological strata are two obvious pathways. If the frack well casing fails this is the most obvious means of the liquid contaminants escaping into the wider environment. Effective regulation would need to be in place to mitigate risks."
He continued: "Potential fracking areas underlie groundwater systems, including those tapped into for public water supply, spring and natural mineral water sources. In large areas, there is a significant depth separation between the frackable shale rock and groundwater aquifers which should provide protection; however this is not always the case. Natural mineral waters and spring waters are perhaps the most sensitive water sources at risk from fracking activities, as they are often taken from depth and cannot be treated."
Fracking will take place below Britons' homes without their permission after ministers rejected 40,000 objections to controversial changes to trespass laws which will be subject to change allowing drilling 3km below land with no permission from the land owner.
The government response to the consultation, concluded: 'Having carefully considered the consultation responses, we believe that the proposed policy remains the right approach to underground access and that no issues have been identified that would mean that our overall policy approach is not the best available solution'.
Paul Thomson said that 10-20 million litres of water is used per frack well. "The fracking fluid comprises approximately 95% water, 4.5% is sand and 0.5% is frack fluid, which in the United States has included biocide, ethylene glycol (as a scale inhibitor), alcohols, sand, petroleum distillates and other chemicals. Once injected it must come out again and the flowback water will contain things we don't want to see in aquifers. The main risk is not what we put in but what comes out."
Companies must first obtain a licence to explore and then must obtain planning permission for the development from the local government planning authorities. "Clearly there will be a need for technical competence within the planning system .
"There are risks which need to be addressed. Natural Mineral Waters may be drawn from greater depths than public water supply. For example, Bath thermal spring is 1.5km below ground," said Mr Thomson, whose firm, Zenith International, is based in Royal Bath Spa. "Natural water sources should be afforded bespoke protection, which may include exclusion zones where risks are determined.
"The water cooler industry and other bottled water organisations and companies should consider the implications for this sooner rather than later," he advised.
One member of British Bottled Water Producers, The Chalice Well Trust, reminds us how precious natural water is and of the need for caution. Its Trustees say: 'It is evident that the impact and effect of hydraulic fracturing on natural springs and sources of water is still uncertain. The Chalice Well Trust is responsible for the care and custodianship of the Chalice Well, an ancient holy well with iron rich spring waters situated in Glastonbury. Any potential risk of contaminating its purity or interrupting or diverting its flow is of utmost concern. Pure and natural sources of water are essential to life itself and it is therefore imperative that sufficient research is undertaken and full consideration of impact given, before any decision is made to embark on an activity for which the outcome may be irreversible'.
Political Positioning
The Green Party expresses concerns too, claiming that 'Unfounded support for fracking puts corporate wealth before public health' and pointing out that the impact on the countryside is far more extensive than conventional drilling.
The Labour Party tabled amendments to the Infrastructure Bill in the House of Lords to tighten the existing regulations for shale gas extraction in the UK. The Conservative Party believes that shale gas offers viable opportunity for a long-term reduction in energy bills; whilst the Lib Dems support fracking as part of a mix of energy measures and a poll of Lib Dem members showed the majority support it.
George Osborne's father-in-law, Lord Howell, was reported by the BBC as saying in spring 2014: "Every time ministers open their mouths to claim that fracking must start everywhere around Britain, and not just in carefully selected and remote areas, they lose thousands of Tory votes."
The jury is out on the case for or against fracking but, one thing seems certain: with the General Election looming, fracking could be something that affects not just the landscape but the political parties too.
Let us have your views: Tweet us @britishwater
---
Article posted on: 26 January 2015