Recent reports suggest bottled water is not as safe as tap, yet more is being sold than ever. Elly Earls met IBWA's Christopher Hogan and British Bottled Water Producers' Jo Jacobius to learn why...
THIS YEAR, RESEARCHERS in both the UK and the US have published studies claiming that tap water is safer than the bottled variety as it is subject to much more stringent testing and is therefore less likely to be contaminated or become a source of Infection. Some US colleges have even taken the step of banning bottled water from sale on campus.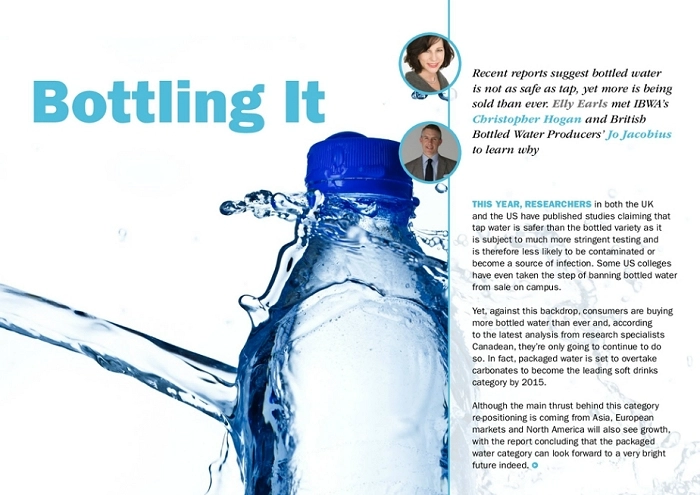 Yet, against this backdrop. consumers are buying more bottled water than ever and. according to the latest analysis from research specialists Canadean. they're only going to continue to do so. In fact. packaged water is set to overtake carbonates to become the leading soft drinks category by 2015.
Although the main thrust behind this category repositioning is coming from Asia, European markets and North America will also see growth. with the report concluding that the packaged water category can look forward to a very bright future indeed.
A HEALTHY PERCEPTION
So, why, with so many concerns about the safety of bottled water, is the category doing so well, particularly given the fact that a bottle of packaged water costs 1,000 times more than the equivalent volume of water from the tap?
According to the Canadean analysis, one of the key drivers behind the category's growth is its intrinsic low calorie proposition relative to alternative mainstream soft drinks.
Christopher Hogan, vice president of communications at the International Bottled Water Association (IBWA), agrees. "Many consumers are focusing on healthful choices for themselves and their families and they know that safe, convenient, refreshing bottled water has zero calories and is the healthiest option on the shelf, he notes.
In the UK, Brett Fleming-Jones, MD of English Natural Mineral Water producer lceni, has noticed a similar trend, remarking: The continued growth of health consciousness amongst adults means that in the impulse sector in particular retailers are giving increased prominence to bottled water at the expense of soft drinks."
Despite the spate of recent reports questioning the safety of bottled water, the perceived quality of these products is another key driver of the category's growth. Hogan believes.
"Consumers appreciate the reliable, consistent quality of bottled water," he says. "And, despite continued efforts by some activist groups to discourage people from drinking bottled water and a few college campuses banning or restricting access to it, consumption and sales of bottled water are increasing as consumers make their voices heard in the marketplace."
STRINGENT REGULATIONS
Bottled water in the US is regulated just as stringently - if not more so - than tap water, according to Hogan.
By federal law, the United States Food and Drug Administration (FDA) regulations governing the safety and quality of bottled water must be at least as stringent as the Environmental Protection Agency (EPA) standards that govern tap water," he says. "And, in some very important cases like lead, conform bacteria, and E. coli, bottled water regulations are substantially more stringent."
He goes on to say that all bottled water products in the US - whether they are from groundwater or public water sources - are produced using a multi•barrier approach. "This helps prevent possible harmful contamination to the finished product as well as storage, production, and transportation equipment," he notes. "Many of the steps in a multi-barrier system are effective in safeguarding bottled water from microbiological and other contamination."
Furthermore. bottled water is one of the few food products that the FDA also subjects to two sets of requirements in addition to the general food Good Manufacturing Practices (GMPs) - one prescribing bottled water GMPs and the other imposing specific bottled water standards of identity and quality.
In the UK, it's a similar story. Bottled water and tap water are governed by separate bodies of legislation, but both are equally rigorously controlled, according to Jo Jacobius. director of the UK's British Bottled Water Producers. "People are just plain wrong to believe that one is more onerously regulated than the other," she emphasises.
Natural Mineral Water. for example, must be bottled at source and that source must be protected from any contamination, with rigorous quality control at the point of bottling ensuring the safety of the water.
"Natural Mineral Water also has a guaranteed composition, not just by the producers but as a requirement of its specific legislation," Jacobius continues. "It must come from an identified and protected source, be of known and consistent quality and be wholesome without treatment. Natural Mineral Water status is also only granted to waters which have demonstrated freedom from pollution and have a characteristic stable composition following a two year period of testing and monitoring. This recognition can only be granted by the European Commission through the appropriate UK local authority Environmental Health Department." 
WHAT'S NOT TO LIKE?
Bottled waters are also becoming more attractive to consumers because they are considered to be more 'natural' than tap water and their source is known.
"At a time when many like to know the provenance of the food and drinks they and their families consume, natural waters have a known source, content and provenance," Jacobius confirms.
Brecon Carreg water, for example, is sourced and bottled in the Brecon Beacons National Park, after years of streaming through layers of limestone, being naturally purified and gaining its unique taste and mineral content, while Iceni English natural mineral water is drawn from a chalk aquifer beneath the South Cambridgeshire countryside in England. So not only can consumers be sure of the precise source of the water they're drinking, they're also guaranteed a unique taste. courtesy of the different minerals - and the quantities of these - that are present at each bottled water source.
Many of the minerals naturally present in bottled water also have health benefits. For example, Iceni water contains calcium, which is naturally imparted into the product as it percolates through chalk and into the aquifer, and is good for healthy bone development.
The recent reports, which shed doubt on the safety and quality of bottled water, claimed that it is required to be tested less frequently than tap water. However, according to Hogan, bottled water actually undergoes more tests than water from the tap. "On a gallon-for-gallon basis, bottled water is tested 36 times more frequently than tap water." he stresses, adding that it should be noted that both bottled and tap water are almost always tested more than the minimum requirements.
Add to this consumers' perception of bottled water as a healthy alternative to other soft drinks, and the fact that its provenance is known and proven, and it's little wonder that we are set to witness a boom in the packaged water category over the next two years.
You can read the full issue 5 of Inside Drinks Magazine here: http://viewer.zmags.com/publication/f4c793fd#/f4c793fd/1
---
Article posted on: 07 August 2014